The use of digital channels was boosted by the COVID-19 pandemic and now, almost three years after the pandemic started, it is safe to say that digital is here to stay. A study shows that consumers are currently accessing twice the number of industries online, as they did before the pandemic.
However, the pandemic forced many companies to move quickly to meet the suddenly increased digital demand – and as we all know, haste can make waste. According to McKinsey's third annual global consumer sentiment survey, digital satisfaction is decreasing globally.
For companies looking for growth opportunities in the current economic uncertainty, being successful in digital service is crucial.
Availability is not a synonym for good customer experience
The impacts of digitalisation on company performance are noticeable. Not only has it opened new opportunities with consumers in new demographic segments, but it has also improved the availability of services and enabled bigger volume of service events with the same head count in customer care.
But from the customers' perspective digital availability in itself is not enough. A service channel that exists but does not meet the needs of the customer becomes just an extra step in the process of getting a problem solved. Poorly implemented availability can actually backfire since one in three customers will leave a brand they are loyal to after one bad experience.
Churn is not the only factor that increases costs due to poor experience. When the same customer makes a contact about the same issue in several service channels, it generates failure demand for the company; unnecessary contacts that are due to failing to serve the customer the first time.
If the service channels do not meet the needs of the customers, the end result actually is more customer contacts from more service channels generating more costs for the company. This is quite the opposite outcome from what was aimed for.
Reasons for digital dissatisfaction
According to the McKinsey survey, customer satisfaction with all digital channels has been declining globally. There are small differences between the geographical areas, but in general, consumers are dissatisfied with UX/UI, product selection and payment experience. Especially in Asia, consumers complain that they can't figure out if a product fits their needs.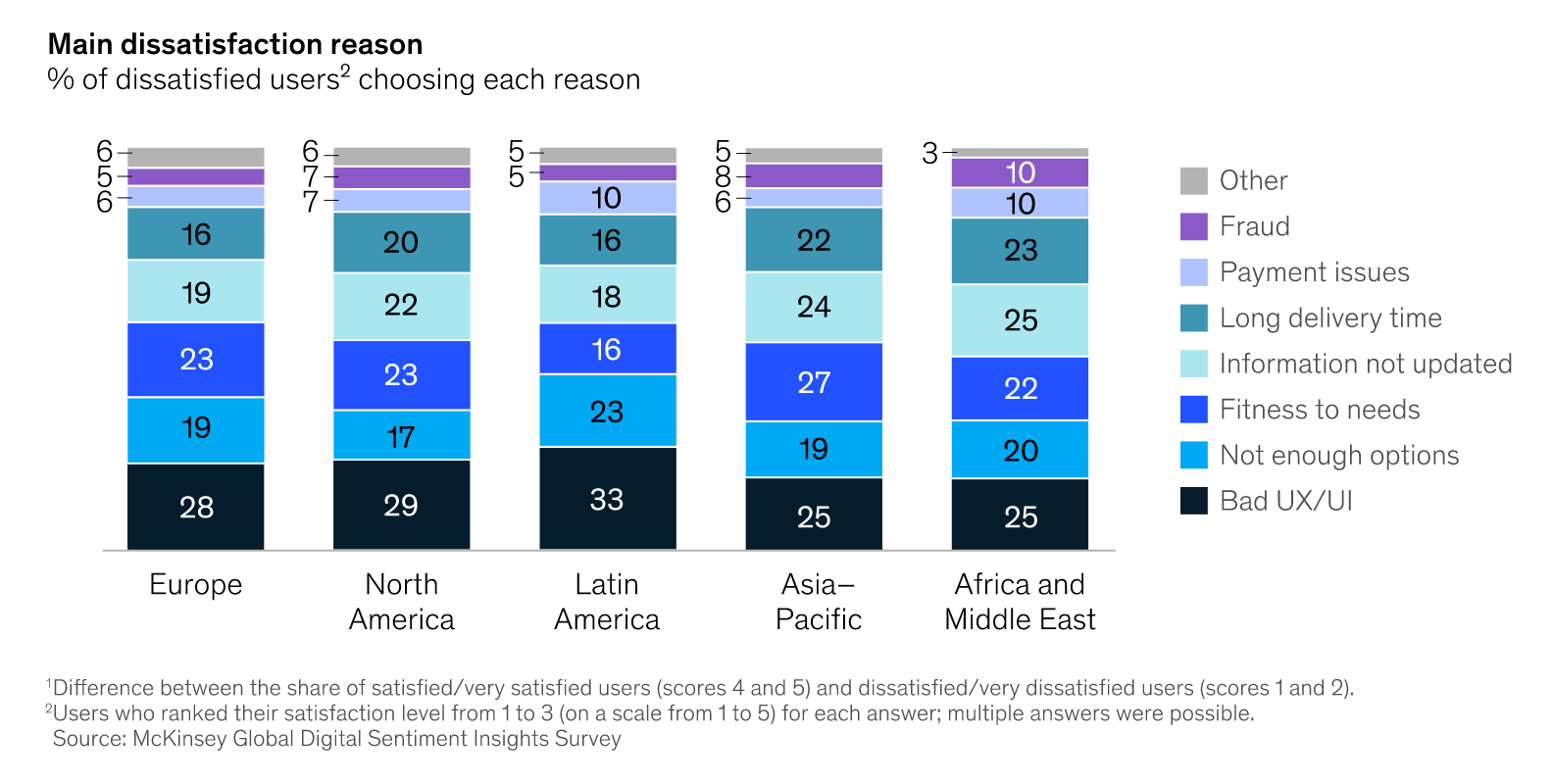 Start leveling up your digital service
Simply put; companies cannot afford to fail in digital service in these uncertain times. Those who make the effort to level up the digital experience they offer, will outperform others who don't.
Success in digital service follows when the company really understands what their customer needs, when and how. The only way to achieve this seeing your service through the eyes of your customers, listening closely what they are saying and observing their behaviour. This helps solving problems before they even knew one existed.
Customer Contact Intelligence is a highly efficient and a holistic way to capture, listen and analyse the needs of your customer and also to uncover the motivations and needs that go unspoken and unmet.
AND where surveys or contact reasons produce a mere list of reasons for dissatisfaction, Customer Contact Intelligence offers a tool to find and to articulate the "why" they are dissatisfied by thoroughly analysing the customer interaction from all channels.
Wouldn't you agree that understanding the "why" for customer dissatisfaction makes it much easier to plan, focus and prioritise the development activities needed?