Aiwo won the second place in Kasvu Open (eng. "Growth Open") final 2020 among 320 Finnish growth startups. In the final day of October 28th TOP 10 Finalists competed against each other by pitching their company in front of a national jury and answering their tough questions. The judges decided the TOP 3 winners in the end of the competition day and Aiwo was happy to achieve the second place on the podium. The other winners were Secapp Critical Communication in the first place and Auntie Solutions in the third.
Kasvu Open's criteria for the competitors and in the end for the chosen winners, were divided into four key factors: market potential, growth potential, team and proof of actions, such as demos or pilot customers. More specifically these meant that the selected companies had a willingness to grow, potential for scalability, resources for growth and a team with whom growth goals can be achieved.
Aiwo's highly experienced interdisciplinary team of 22 employees has 18 experts in Finland and four in Australia. Aiwo directs its business in addition to the Nordic countries to the Southeast Asian, North American and European markets. The main goal is to operate in all key markets during 2021. Immense growth rate in Finland and international markets will tenfold Aiwo's revenue during the current financial year. Aiwo's explosive growth and global scalability impressed the national jury in the final as well.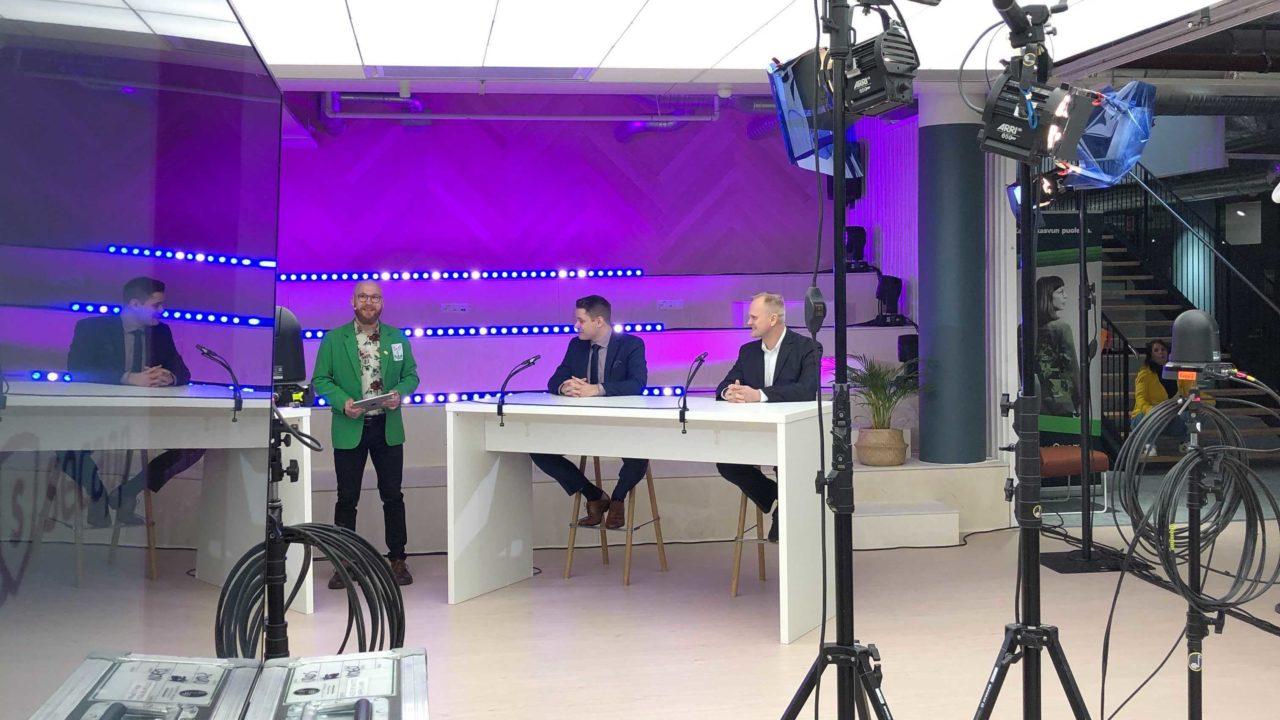 Aiwo's CEO Atso Vesterinen with Secapp's Chief Business Officer Jani Lehtinen in front of the national jury of Kasvu Open. Picture taken by Jani Jokela. The article picture is taken by Kasvu Open / Matias Ulfves.
International growth was also part of sparring that Aiwo received from Kasvu Open during the year. Kasvu Open Ltd. offers sparring for Finnish growth startups during the year as a support to their business. During the spring of 2020 there were 528 applicants for Kasvu Open's sparring program to where 320 growth startups were chosen. The three-day Kasvu Open Karnevaali ("eng. Growth Open Carnival") event, which included the final of the TOP 10 finalists highlighted the year by combining Finnish growth startups, financiers and potential partners. Aiwo's CEO Atso Vesterinen is thankful for the sparring experience with Kasvu Open:
In Kasvu Open sparring we received concrete tips, how to grow a business internationally. I am particularly grateful for the knowledge sharing culture among Kasvu Open growth startups. As a result of that companies won't be repeating the same mistakes, praises Vesterinen.
Aiwo provides customer experience in a totally new way with artificial intelligence service, where all customer encounters and customer communication (e.g. phone calls, emails, chat conversations, social media messages) can be changed and visualized into customer experience. The onboarding of the service can be done quickly, just in one day. There is no need for human labour or pre-defined key words. Data is all that is needed.
In Kasvu Open final Vesterinen stepped in front of the national jury to answer to their tough questions. The judges roast was not an easy spot for the finalists:
The questions that the judges raised were challenging, and I tried to answer them to the best of my ability. We are thinking continuously, how we can tell about our unique service more understandably. Therefore, it was good that the judges challenged us with these questions. We are very grateful for this achievement. I want to thank Kasvu Open and congratulate the other growth startup winners. This is fantastic! ", rejoices Vesterinen.