Aiwo CX
Complete visibility into all customer experience in real-time.
Take advantage of all customer communications from all open-ended data sources and phone call recordings.
Harness all of your data sources to provide deeper customer insight with qualitative analytics.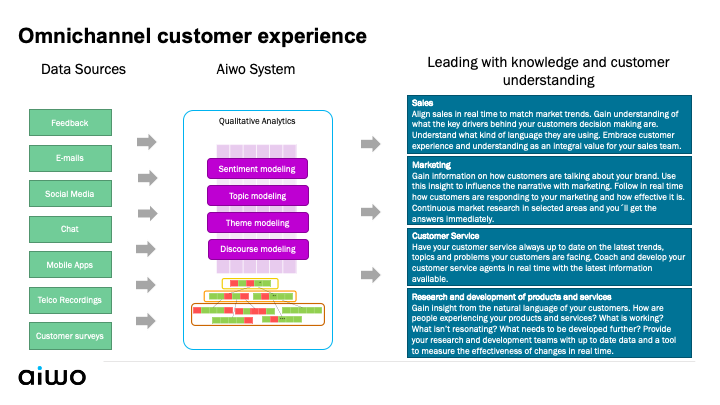 Aiwo CX for Customer Service
Customer support is contacted daily from a variety of sources. The amount of information can be enormous and no one can get an overall picture of why customers are in contact with customer service. Typically, customer service contacts are related to problems with products or services. Contacting customer service always costs money and causes extra work.
Typical customer service data sources include phone calls, chat messages, emails, web site feedback, etc. With Aiwo CX all data sources can be analyzed simultaneously in full real-time to provide an accurate and reliable view of customer service day-to-day operations.
Have your customer service always up to date on the latest trends, topics and problems your customers are facing.
Coach and develop your customer service agents in real-time with the latest information available.
Qualitative analytics can identify and visualize the root causes of customer service contacts. The Aiwo System service can take advantage of the various customer service communications and messages from all channels. Aiwo System can provide real-time observations of phenomena and trends, as well as measures needed to develop services and products.
Aiwo CX for Sales and Marketing
Gain information on how customers are talking about your brand. Use this insight to influence the narrative with marketing. Follow in real-time how customers are responding to your marketing and how effective it is. Continuous market research in selected areas and you will get the answers immediately.
Align sales in real-time to match market trends.
Gain an understanding of what the key drivers behind your customers' decision making are.
Understand what kind of language your customers are using.
Embrace customer experience and understanding as an integral value for your sales team.
Aiwo CX for Product and Service Development and Market Research
Gain insight from the natural language of your customers.
How are people experiencing your products and services?
What is working?
What isn't resonating?
What needs to be developed further?
Provide your research and development teams with up to date data and a tool to measure the effectiveness of changes in real-time
Our reference customers are using Aiwo CX service
      
Want to hear more?
Want to hear more, how we create unfair competitive advantage to our CX customers? Select a time below to book a demo and we will be happy to tell you more: